9/30 UNION ACTION Tomorrow - 10AM ***SPECIAL SESSION Action*** NM Workers in the Crosshairs
MILES CONWAY
29 Sep, 2016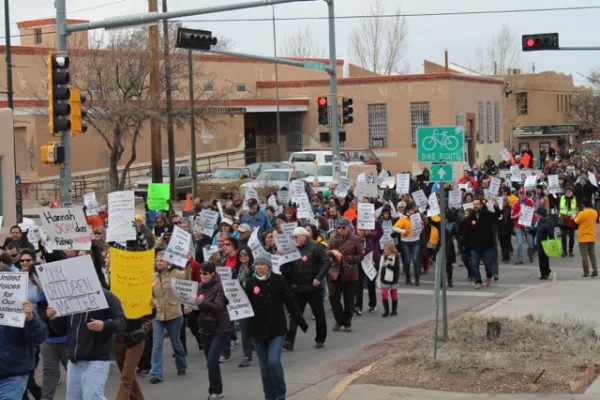 Union Brothers and Sisters,
Here we go. Governor Martinez has at last called for a legislative special session beginning tomorrow to tackle a budget deficit in the hundreds of millions.

The challenge we face: Governor Martinez will propose massive cuts from everyday New Mexicans in order to protect tax giveaways to out-of-state corporations and the wealthy class who have funded her agenda for the last six years.
JOIN US TOMORROW at the Roundhouse,
10AM -  NM House of Representatives, House Floor
Tune in on-line tomorrow or join us in person, September 30, at 10AM as our legislative working family champions GO LIVE at a press conference to describe how we'll defend New Mexico families from the greed agenda together!
CALL Governor Susana Martinez
505-476-2200
Deliver our message, "Budgets are already cut to the bone! Ignoring revenue and making reckless cuts are putting everyday New Mexicans in jeopardy!"
Governor Martinez will try to distract the public from a budget crisis she helped cause by adding unaffordable and ill-timed "crime-all-the-time" legislation to the special session agenda.
Union members WORK HARD to make New Mexico shine! A strong political program gives us the edge in protecting public services AND good public service careers.
CLICK HERE to sign up for the New Mexico Federation of Labor political ACTION Machine!