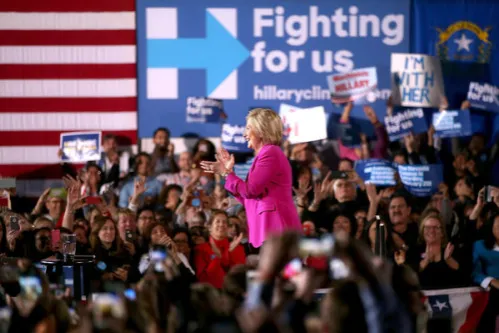 Help Labor WIN THIS ELECTION—Make $12/Hour Phone Banking and Canvassing!
by Miles Conway, AFSCME Council 18

In some districts, the election can come down to a handful of votes. You have the power to make sure our UNION VOTE MATTERS.
Unionmembers and retirees can make $12/hour volunteering to help elect pro-worker state legislators, a secretary of state, and president.
Labor can win this election, but we need your help to do it. Come volunteer today!
Click HERE to see the Labor 2016 schedule at the new, improved (also interactive and spicy!) NMFL website.

---
AFSCME Members Survive Legislative Train Wreck—Republicans Coddle the Rich and Hack Public Service Budgets
from AFSCME Council 18


Gov. Martinez and the House Republicans tried to balance the budget largely by cutting workers' pay and stealing from the pension fund. Thanks to your calls, emails, and AFSCME being at the Roundhouse throughout the session, our Democratic allies in the House and a bipartisan coalition in the Senate were able to stop pay cuts, furloughs, layoffs, and pension raids—for now.

State agencies must now figure out how to handle nearly $190 million in cuts to this year's operating budgets. The 60-day legislative session beginning in January will be brutal IF WE DON'T TAKE BACK THE HOUSE in November!
This has gone on long enough! Here are three things every union member needs to do right now:

Click HERE for full article.
---
Special Session Recap from New Mexico AFT: Sine Die!
from Stephanie Ly, President AFT NM
The special session has ended, and now that the dust has settled, we can report several cuts as they relate to New Mexico public education (early education through higher education):
·     A 1.5% cut to the state equalization guarantee*;
·     A claw-back of 30 million from instructional materials and transportation;
·     A claw-back 23 million from the PED's below-the-line money;
·     A 5% cut to higher education institutions;
·     No cuts to CYFD (early education).

*The state equalization guarantee received a 1% increase in January of 2016 for the '16-'17 school year, so the current 1.5% cut represents a .5% cut to the '16-'17 school year.

The Republican-led House used as much as 90K in taxpayer money to debate crime bills for a week, and chose not to address New Mexico's budget deficit until the last few hours of the special session, choosing not to stay in session to determine which bills the Senate would act upon.

Once the House adjourned, the Senate concurred several House to proposals that contained small changes to the package of Senate bills passed a week ago, and also adjourned sine die.

New Mexico's public educators owe a debt of gratitude to leaders in the Senate for keeping as much funding as possible for our schools and higher education, and also keeping the focus of the special session on our fiscal crisis. House leaders like Rep. Brian Egolf, Rep. Sheryl Williams Stapleton, and Rep. Christine Trujillo also went to bat for our students and schools.

The last week has been a sobering reminder that it is crucial that we exercise our right to vote and keep our legislative allies in the Roundhouse.

---
We're With Her!
---
An Open Letter to Donald Trump: You Lost My Vote When You Crossed My Picket Line
Dear Mr. Trump:
My name is Dan Mahoney. I was born and raised in New York. I am a proud member and employee of the International Alliance of Theatrical Stage Employees (IATSE), the union that represents backstage crew and technicians in entertainment.

Working in motion pictures and television, I have worked alongside many celebrities, politicians, actors and other personalities. Imagine my surprise when I watched as you crossed our IATSE picket line in 2004.

Click HERE for full letter.
---
Trump Wants to Know, Where Are the Union Members?

At a Pennsylvania rally, Donald Trump asked the audience how many are union members. Somehow, he's surprised to find "not many." That's because union members know Trump is wrong for working families. He supports a dangerous national right to work law, has never said he supports people's right to collectively bargain, and even refuses to negotiate with his hotel staff who formed a union.
Working families know there is a clear choice: Hillary Clinton.
Click HERE or on the image above to see the video.

---
First-Time New Mexico Voters Prepare for November Election
On Saturday, September 17, Somos Un Pueblo Unido celebrated Citizenship Day to highlight the stories of immigrants who have recently become U.S. Citizens and plan to vote for the first time in the November election.

"I decided to become a U.S. citizen so I can have the right to vote," said Berta Andrade, a longtime resident of Hobbs and member of Somos Lea County who became a U.S. citizen in July. "The rights of dairy workers, immigrant rights and immigration reform are very important issues for me and my family."

According to data released by the U.S. Citizenship and Immigration Services (USCIS), during Quarter 3 of this year (April 1 to June 30) a total of 673 citizenship applications were submitted to USCIS, as opposed to a total of 537 applications from the same quarter in 2015.
---
Santa Fe New Mexican Workers Protest
On October 3, several workers from the Santa Fe New Mexican, their families and supporters, protested numerous cases of discrimination, intimidation and harassment in front of the newspaper's office. The action was organized by members of the United Worker Center of New Mexico (a project of Somos Un Pueblo Unido) with support from Equality New Mexico.
"I worked for the newspaper for four years without any problems until another supervisor began making inappropriate comments about my sexual orientation to workers I supervised," said Janette Perez, a member of the Santa Fe New Mexican Workers Committee who filed a complaint with the U.S. EEOC.
"I followed the rules and went to my own supervisor about these issues but instead of finding support, I was dismissed, told to sign a letter saying that I would not sue and later fired. I want my job back and for all supervisors to be properly trained. No one should be punished for standing up for their rights."

---
Using a Rat Balloon to Protest Labor Abuse
from The Atlantic
Lenny Anselmo is a union organizer with Laborers Local 79 in New York City. Every day, he lugs a 20-foot inflatable rat around the city to protest at non-union construction sites. The short film Lenny and the Rat, by Jason Hutt, follows Anselmo throughout the day as he and other trade union workers call for rights to living wages and benefits.

"It's sending a message to developer and contractor, saying we're not just going to stand here and watch you build that building without a fight," Anselmo says.
Click HERE to watch video.
---
Why Millions of Workers in India Just Staged One of the Biggest Labor Strikes in History
by Shashank Bengali for the LA Times


Earlier this month [September], tens of millions of Indian workers staged a one-day general strike that unions billed as the biggest work stoppage in human history.

By the unions' count, 180 million workers stayed home to demand a slew of changes to labor laws, including establishing a $270 monthly minimum wage for unskilled laborers and ensuring social security for every worker.
Click HERE for full article.

---
Seattle City Council Approves Worker-Scheduling Law
by Janet I. Tu for the Seattle Times
The Seattle City Council unanimously passed a "secure scheduling" law on Monday [September 15], making Seattle the second major U.S. city to regulate how large retailers and food-service employers schedule their workers.

Approval was expected, as the draft bill had passed out of committee last week with the five council members present all voting for it. The five represent a majority on the nine-member council.
Click HERE for full article.

---
MONTHLY REMINDER: Mobile Food Pantry, October 28
What: Labor Mobile Food Pantry
When: Friday, October 28, 11 am to 1 pm (volunteers, please come at 10 am)
Where: Cesar Chavez Community Center, 7505 Kathryn Ave. SE, Albuquerque [NOTE: this will be the food pantry's permanent location going forward]
Who: Organized by Central New Mexico Labor Council
For more info: Contact Mike Swisher at mike.swisher@uwcnm.org
---
Got union news ?
Submit it to editor@iatselocal480.com.